Philadelphia, Pennsylvania
"Our Alternative Basics Bar™ is a go-to for our clients: they love the functionality, versatility, and the quality for the price. Our clients ask for Alternative by name – they run errands, walk the Jersey boardwalk, and lounge at home - all in Alternative. Our Alternative Basics Bar™ is a Knit Wit staple, and we wouldn't be complete without it."
In June 2018, we held a Basics Bar

™

Contest where stores submitted their best in-store photos of their stocked

Alternative Basics Bar™. Knit Wit raised the bar high with their neutral, aesthetically pleasing submission.
Q&A:
We chatted with Ann, the owner of Knit Wit for 50 years, to learn more about her store and experience with the Alternative Basics Bar™, here's what she had to say: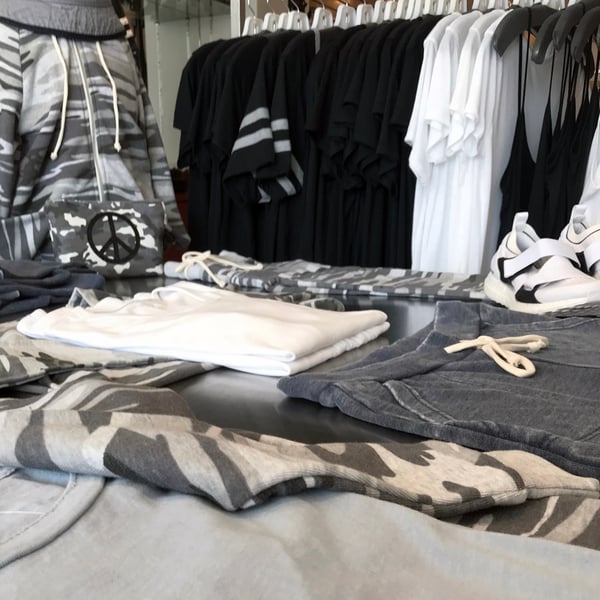 Tell us a little bit about your store.

We've been in business for 50 years - we're like a family. We have two locations now (Bryn Mawr, Pennsylvania and Margate, New Jersey) and a pop up shop four times a year in Philadelphia.
Who would you say is your target customer?
We have three generations of customers since we've been around for 50 years.
What are some of your favorite Alternative pieces and why?
There are a few styles I always keep on the table and constantly replenish: The Slinky Tank and The Adrian Zip Hoodie.
When did you open your Alternative Basics Bar™? How has having a dedicated space for Alternative basics changed your business?
I've carried Alternative for a year, and it does so well because it's my least expensive line, but still has an expensive look. Because of this, I'm consistently updating (my Basics Bar™). When you keep a neutral line, you never have to mark them down because they're easy to sell. They pair well with a Helmut Lang jacket, Joes Jeans and any other brand we also carry.

What do you think is the biggest benefits to having an Alternative Basics Bar™ in your store?
Now, I carry only one basics line (Alternative), instead of 12. There are less odds, ends and markdowns with only one basics brand, and since I mainly sell Alternative neutrals with small pops of color, the line always looks curated.

How is your business adjusting to the ever-changing retail world? What are you most excited about?
We have a pop up shop in Philadelphia four times a year to minimize retail space rent, but still bring in the city foot traffic. We had a few off years, but now there's this energy in retail again and traffic is up.
What advice would you give to a new store owner?
Curate your store(s) - it's what makes it special and stand out.
Want to build your own Basics Bar™? - find out how.