When we went exploring for ringers, raglans, long-sleeves and the like, the best company to supply us with the look and feel we were seeking was Alternative.
-Victor Rojas, Owner and Founder of Big Fly Gear
What happens when the announcer for the Los Angeles Angels starts a T-shirt company? Home run after home run. In fact, it's in the name. Started by Victor Rojas and his family, Big Fly Gear ('Big Fly' meaning home run) has been creating vintage-style apparel for baseball fans since 2017.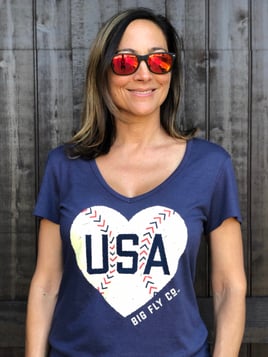 From 'U.S.A.' to 'Soy Jonronero,' their graphics tell the story of the classic game. "We take a person, place and/or moment in baseball history revolving around the home run, and we create a one-of-a-kind graphic that tells the story. We're baseball fans wanting to share the history of the game through unique art, and that's how we came to be," said Victor.
Big Fly Gear's graphics really knock it out of the park, so we had to ask: What makes a design a winner? Victor said: "It has to speak to me. Because we're generally telling stories, no two graphics are going to look and feel the same, and if they do, we make changes. The details and subtleties on a graphic are big for us. We want people to see something in the art and have them experience that 'I like what you did there' moment as they pick something up. We love those stories."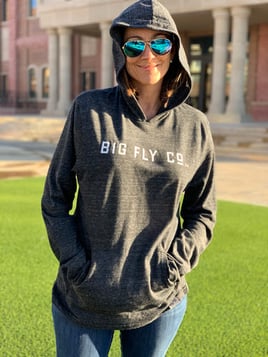 12365E1 Marathon Hoodie in Eco Black
In order to tell those stories well, Big Fly Gear relies on vintage vibes — and those start with Alternative. "Our focus for the core of the business, T-shirts, was to provide customers with tri-blend options. We didn't want to put all our eggs in one basket, so when we went exploring for ringers, raglans, long-sleeves and the like, the best company to supply us with the look and feel we were seeking was Alternative," said Victor.
Like a baseball tee, love-worn through the seasons, Alternative garments are rich in softness. Victor said: "It's the number one compliment we receive from our customers — and that's before they even put it on. To open a package that was prepared for them… the tissue paper, twine, the fold and then be able to hold the product before unfolding it and have the immediate satisfaction of how buttery soft it feels in their hands."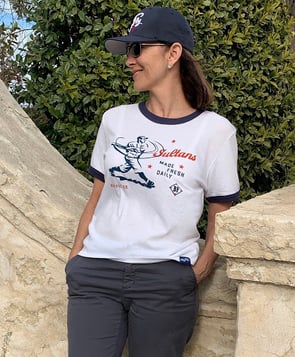 5103BP Keeper Ringer Tee in White/Navy
But we can't take all the credit. Big Fly Gear's talented team bring that retro feel to life. "We're blessed with a designer who gets us. Bryce and I are old souls and his work seems to have that same style across the board," said Victor. They also lucked out with their printer. "We've trusted our printer from the get-go, which is something considering they were the first group we visited — and the only group," he added.
Curious about their technique? Same here, so we asked. Victor said: "The vast majority of our items are screened with plastisol, and that's been a little bit of a challenge especially as the color of a screen hits particular colors of shirts but nothing too outrageous. This month, we'll be releasing our first shirt printed with discharged ink instead of plastisol. We wanted to mix it up with this particular graphic and get a feel for other things we may want to do down the road."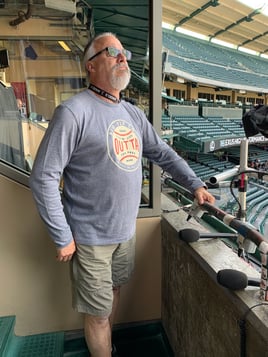 5100BP Long Sleeve Keeper Tee in Vintage Navy
No matter their team, fans can all agree on one thing: Big Fly Gear is way comfy. Their biggest crowd-pleaser? The 'Livin' Life Outta The Park' Keeper Long-Sleeve Tee. Victor said: "It's got incredible softness for a 50/50 garment."
Soft. Simple. Sustainable.™ Our garments are in a league of their own.