Find the coziest options for corporate gifting programs with Alternative's 2018 Holiday Gift Guide. Whether for clients, colleagues or employees, we believe everyone should live comfortably.

Retail quality. Style. Soft, sustainable fabrications. The right silhouette. A garment that stands the test of time, wear after wear. At Alternative, we take the time to design authentically worn-in pieces in fabrications that feel like a second skin, and become your go-to, everyday pieces.
7598BQ Zen Wrap 5050BP Keeper Tee 1973EA Eco Crew

When you give a stylish hoodie or pullover to dress up or down, people will wear it all year – to class or work, to the gym or brunch, to a bonfire or the beach. Warm and ultra-cozy, our hoodies and pullovers keep you comfortable year-round.
9595F2 Challenger Hoodie 9575F2 The Champ 9590F2 Rocky Zip Hoodie

Our methods and materials are mindful of our impact on the planet. We source the finest fabrics, develop fabric blends for softness and durability, and incorporate organic and recycled materials wherever possible.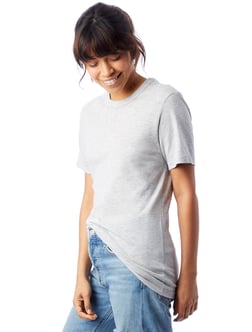 9573F2 Adrian Hoodie 2830MR Muscle Tee 1973E1 Eco Crew

We have a great selection of complementary men's and women's styles, along with lots of unisex basics. Check out our website.
900419 Cord Wrap 900416 Basic Barrel Duffel 900411 Basic Computer Backpack