Our iconic Eco-Fleece stands out from the rest – inspired by classic gym wear, this super-soft tri-blend fabric is made with recycled and organic materials. Soft, simple and sustainable, our selection of Eco-Fleece styles keep you comfortable year-round.
Here's everything you need to know about Eco-Fleece and the best way to decorate it:
.


Eco-Fleece is a blend of polyester, cotton and rayon that includes recycled and organic materials. It's knit on machines we've calibrated to replicate a vintage-soft look and feel. And our fabric undergoes a proprietary wash to deliver unmatched softness, so this will be your favorite fleece for years to come.

We recommend these five decorating methods for Eco-Fleece:
Screen printing, using basic plastisol ink
Screen printing, using water based ink
Direct-to-Garment (DTG)
Heat transfers
Embroidery and appliqué
You or your decorator should always run a test piece first – this is a good rule of thumb prior to decorating all apparel. For example, if screen printing is your chosen method of decoration, the decorator will test for dye migration, preferably using inks with bleed blockers, and for the correct dryer temps and timing. Make sure you talk with your decorator about the best method to achieve the look you want.

Whether you're dealing with zippers, pockets or hoods, here are some tips to help you print on the right spot.
Look to the left chest for ideal design placement on zip hoodies. When working with a zippered garment, select one with a fabric-covered zipper (Try our Eco-Fleece Rocky Hoodie). Otherwise, your screen printer will use a zipper pallet, where the zipper gets pushed into a channel during printing to reduce ink over the zipper.
If you've got a pocket to contend with, it's a better idea to decorate above it, rather than over it. If you size the art appropriately, it'll sit perfectly above the pocket on sizes for all.
Pullover hoodies and sweatshirts offer a lot more real estate on both the front and back centers for a logo. If you're decorating the back of a hoodie, be sure you can still see the design when the hood is down.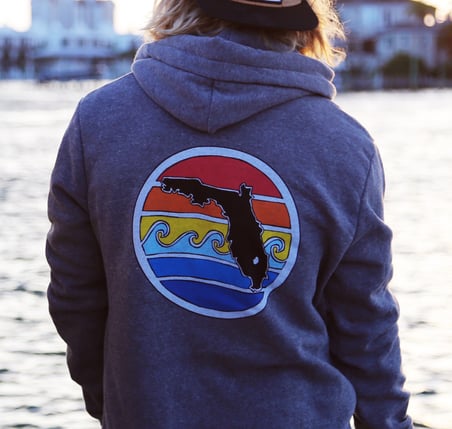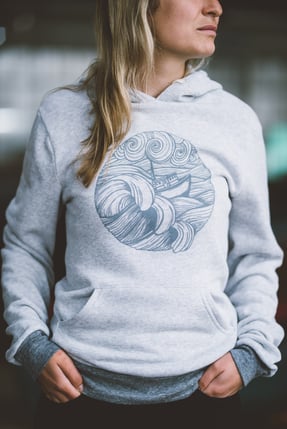 @sunshinestategoods - Rocky Hoodie @aksalmonsisters - Challenger Hoodie
Alternative's wide selection of soft Eco-Fleece garments are the perfect combination of comfort and style. You'll love these timeless, authentically worn-in pieces. And you'll love that our medium-weight fleece is made sustainably with eco-friendly materials, so you know you're making a positive impact on the planet every time you wear it.

Shop our best-selling Eco-Fleece Collection.